Targets
Among the many targets Sultan has, the most important one is to be acknowledged as specialists in the realization of complex projects in the high range sector (cruise ships and mega yacht), through the improvement of business competitiveness, customer satisfaction, involvement of employees and a strong partnership with our suppliers.
Besides the internal market, other reference markets are Italy, United States, Germany and Great Britain, with the aim of reaching new emerging markets.
Sultan's strong points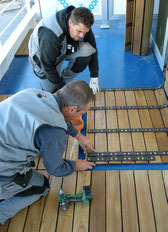 YOUNG COMPANY
TEAMWORK
STRONG CUSTOMER RELATIONSHIP
PARTNERSHIP WITH SUPPLIERS
SHARED VALUES
OPERATIONAL FLEXIBILITY
HIGHLY TRAINED AND QUALIFIED STAFF
Sultan has a well-coordinated, streamlined structure which is characterized by skills that are able to manage and follow the customer in their every need: pre-sale, research and development, technical and engineering, personnel on board the ship, whether to find the most suitable solution from the productivity point of view or that of budget optimization.